Discover more from 5 Minute ASA
Bi-weekly newsletter delivering salient data points relating to NFL DFS lineup considerations and slate strategy.
Over 2,000 subscribers
Friday Main Primer
NFL | Week 7 | 2020
ASA was built to help DFS players make tournament-winning lineups.  In particular , we focus on providing information about player correlations and distributions that we feel are neglected by other sites.  While the current site is structured to do this effectively, we acknowledge that interaction with our tools requires significant time and know-how.  Therefore, we are beginning this bi-weekly Substack with the goal of distilling the vast information that is accessible through ASA into what we see as the absolutely essential points.  The audience is the sophisticated recreational sports fan; the goal is to communicate our content in ten minutes per week.   
At ASA, we have a core belief that there are 5 pillars of NFL GPP construction:
Probability of stacked team scoring the most points on the slate

Cost, and therefore value, of team stack

Ownership of stack

Correlation of stack

Upside of stack pieces
As part of this column, we will have a weekly sheet of the teams on the main slate with various metrics that pertain to the above 5 pillars. All of the information below comes directly from data available on the Advanced Sports Analytics website (advancedsportsanalytics.com).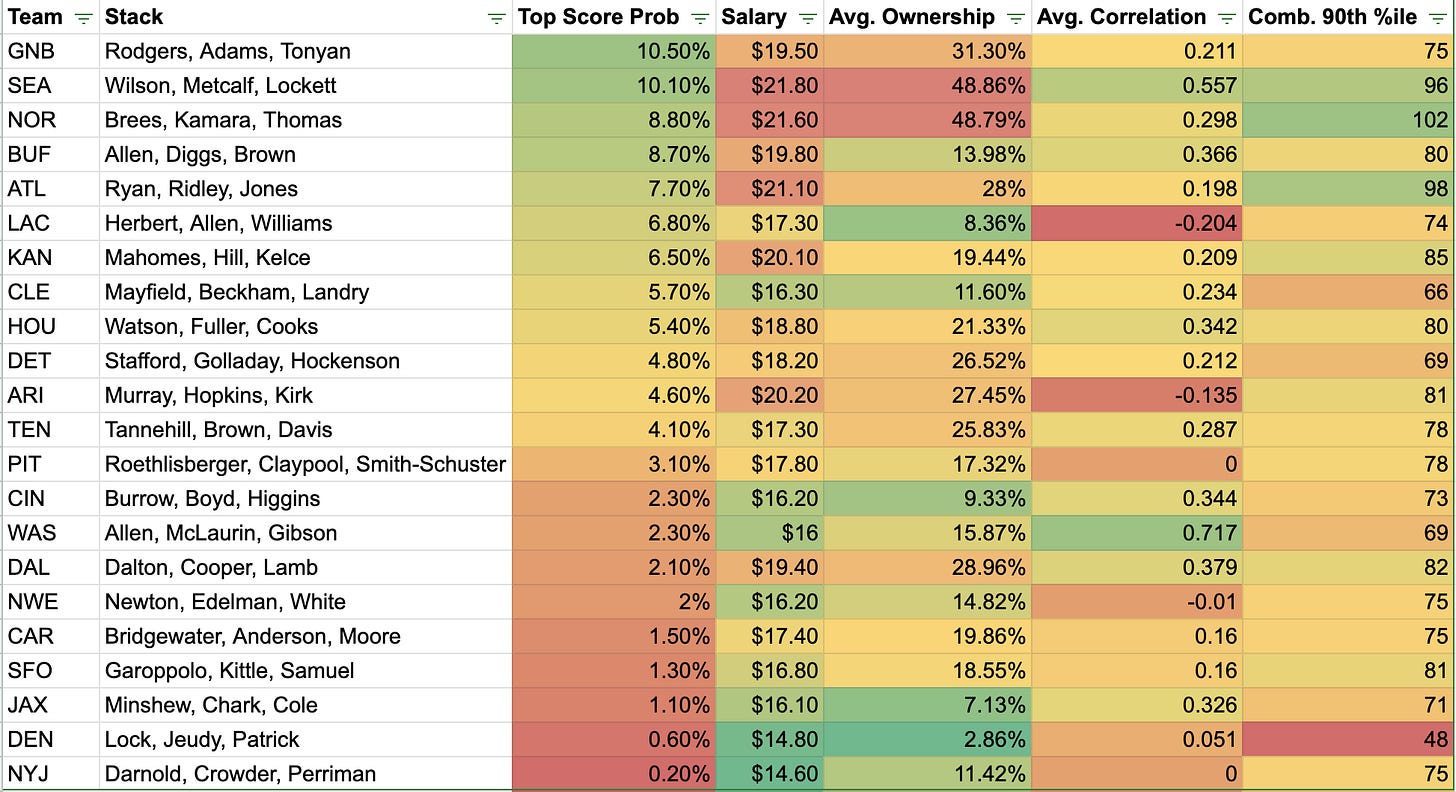 If you are interested in details about these columns, please see the Notes at the end of this newsletter.
---
It is rare, dare I say never seen, that we find stacks that check off all boxes of being (1) likely to score a bunch of points, (2) at a reasonable price, (3) with low ownership, (4) possessing exceptional positive correlation, (5) and with superb ceilings. In actuality, we're hoping to target stacks that check 3-4 boxes while conceding another desired trait or two. Below are a list of a few stacks that check some boxes for us and might be considered viable options for this weekend's main slate.
Seattle - Pros: high implied total, superior correlation, exceptional ceiling. Cons: costly, high owned.

New Orleans - Pros: similar to Seattle but has higher combined ceiling in exchange for less correlation and lower total. Cons: same as Seattle

Cleveland - Pros: modest total, cheap relative to comparable totals, likely to be low owned. Cons: limited ceiling, modest correlation.

Cincinnati - Pros: cheap relative to comparable totals, likely to be low owned, good correlation. Cons: low probability of breaking the slate.
Buffalo, Atlanta, Houston, and Kansas City are all honorable mention stacks, as they pass some combination of GPP stack ideals while failing others. At the end of the day, in targeting preferred lineup stacks we're forced to balance the tradeoffs of the five ideals listed and charted above.
---
Trends of Note
* All accessible via our NFL Volume X Efficiency application.
DJ Chark has gotten off to a slow start to 2020, with some injury complications mixed in there. But in Week 6 he set season highs in Snap %, target market share, and air yards market share - totaling 89%, 31.8%, and 46.3% respectively.

Over the past 3 weeks, Terry McLaurin's usage has been insane, particularly his share of the team's air yards. In week's 4-6 he has recorded air yard shares of 67% (134 Air Yards), 70% (97 AY), and 43% (110 AY).

Last week's 48% rush attempt market share marked a season low for Ezekiel Elliott. However, this wasn't a sudden and sharp decrease, but rather a decrease in role that has been a growing trend since the start of the season. Zeke's rush market share has decreased in 4 of the 5 weeks since Week 1, and has decreased in each of the last three weeks.
---
Notes
Top Score Probability - At ASA, we estimate the probability of each team scoring the most real points on the main slate. This number is generated through simulations of point totals based on game total, spread, offensive & defensive team traits, and weather. The information for this metric can be accessed using our NFL Point Total Projection application.
Salary - The combined salary of the players listed in the Stack column. We are looking at "stacks" as the QB + two most expensive pass-catchers on each team. This is typically restricted to WRs & TEs, however we will consider RBs that are prominent in the pass game (e.g. Alvin Kamara, Antonio Gibson) as "pass-catchers".
Avg. Ownership - At the moment, ASA does not do ownership projections. However, we feel that average historical ownership is a decent enough proxy for understanding how popular the pieces of a specified stack are likely to be. The average ownership that is reported is the combined average ownership of stack players in Millionaire Maker contests during the 2020 season. Note that players' ownership in Showdown or other short slate contests will not be considered. You can access the information that is used to generate this data in our NFL Ownership Tracker application.
Avg. Correlation - Correlation of groups is a tricky concept to measure and quantify. We feel that one reasonable way to measure the correlation of a set of players is to calculate the average correlation of all player pairs among a group of players. Below you can see how the "average correlation" between Russ Wilson, Tyler Lockett, and D.K. Metcalf is calculated.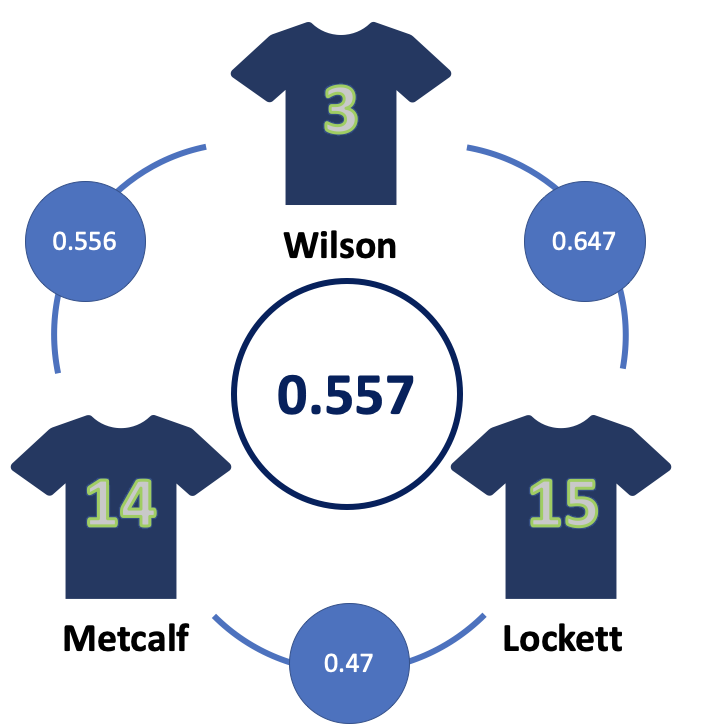 If you're interested in reading more about the implications of and the strategies surrounding correlated plays, we recommend you read an old blog post of ours which should provide some context. All correlation metrics that are aggregated in the table above can be viewed through our NFL Player Correlation application.
Comb. 90th %ile - This is simply the aggregation of the three stack players 90th percentile performance, dating back to the beginning of 2019. It can loosely be used to understand the ceiling of the combination of players that are outlined in the Stack column. Keep in mind that these are independent ceilings of each player, not simultaneous. So while the moderately correlated stack of Ryan, Ridley, Jones have a combined 90th percentile ceiling of 98 DKP (Ryan - 34, Ridley - 32, Jones - 32), their only modest correlation suggests that it isn't particularly likely that all 3 reach their 90th percentile in the same game. On the contrary, a well-correlated stack like Willson-Metcalf-Lockett have a better chance of reaching their 90th percentile ceiling in the same game. The information that populates this column can be accessed through our NFL Player Distributions application.